Therma Tru Doors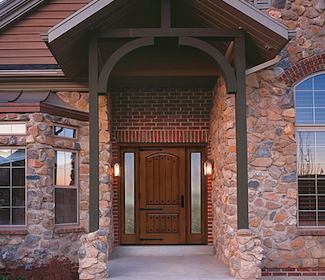 Therma Tru Doors for Entrances
Since 1962, Therma Tru has been at the forefront of the energy-efficient fiberglass exterior door industry. Their commitment to design, efficiency, and the responsible use of natural resources make their products a perfect fit for your green home.
Therma Tru's Commitment to Saving Resources (and Your Money)
Before we look at how the look of a Therma Tru door can add beauty and value to your home, let's examine how Therma Tru doors will increase your home's comfort level, energy efficiency and environmental protection. All ThermaTru fiberglass exterior doors can contribute to a variety of green building standards, including LEED certification.
Therma Tru Doors: True Efficiency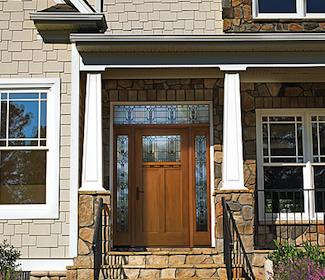 Therma Tru Doors for Entrances
The entire line of ThermaTru exterior fiberglass doors are Energy Star compliant and approved by the National Fenestration Rating Council for their excellent efficiency. A ThermaTru fiberglass door offer much higher energy efficiency than wood or steel doors. ThermaTru fills their doors with a CFC-free polyurethane foam, which allows them to be as much as four times more efficient than traditional wood doors. In addition to being more efficient than wood, fiberglass doors are much more durable and low-maintenance.
ThermaTru fiberglass doors also feature the Tru-Defense system, which uses weatherstrips, corner seal pads, door bottom sweeps, and profiled sills to create the tightest seal possible between the door and the frame. This system keeps out damaging wind and rain, further increasing the energy efficiency of the door.
Therma Tru Doors: Maximizing Recycling
ThermaTru is continually innovating new processes to reduce waste in all aspects of their manufacturing. At their Indiana facility, 50% of all possible landfill waste was recycled in 2009, an 80% increase since just 2006.
Therma Tru Doors for Sustainable Forestry
Therma Tru uses their exclusive AccuGrain Technology in their fiberglass doors to replicate the fine grain detail of natural high-end wood without the need to harvest endangered wood such as Honduran Mahogany. The wood that ThermaTrue does use in their door systems, such as door frame components, come from sustainably-managed forests. ThermaTrue works with suppliers that follow strict certification standards such as the State of Oregon's Forest Practice Act.
In addition to the environmental qualities of ThermaTru doors, another advantage of their fiberglass doors is their outstanding sound insulation. In addition to the energy savings it provides, the foam inside ThermaTru's doors keeps outside noise out of the house.
Therma Tru Doors: Lasting Beauty for Your Home
The long-lasting durability of ThermaTru doors will add beauty and value to your home for years with minimal maintenance. Fiberglass doors are dent and scratch resistant, won't rot, rust, warp or twist.
ThermaTru Fiberglass Entry Doors
The ThermaTru AccuGrain technology has allowed them to create beautiful doors with a truly realistic wood grain appearance. The ThermaTru Classic Craft entry doors are available in five styles: American, Mahogany, Rustic, Craft Oak, and Canvas (smooth). They also offer five different low-e glass designs to give you a number of attractive, efficient choices.
ThermaTru Patio Door Systems
Offering the same benefits of their entry doors, the ThermaTru French/Hinged patio doors are an excellent alternative to wood or steel. For those looking for a more economical choice, the ThermaTru vinyl sliding patio doors are an excellent choice. Available in white vinyl, ThermaTru sliding doors are reinforced for security, and are designed to withstand high wind and heavy rainfall.
Therma Tru Doors and Green Home Source
Green Home Source has approved ThermaTru exterior fiberglass doors for their green home plans. ThermaTru doors have all the green attributes we look for when designing a super-efficient home; they are durable, certified efficient, and beautiful.
To visit the Therma-Tru website, click HERE.
comments powered by

Disqus