Heliodyne Cool Climate - Solar Water Heater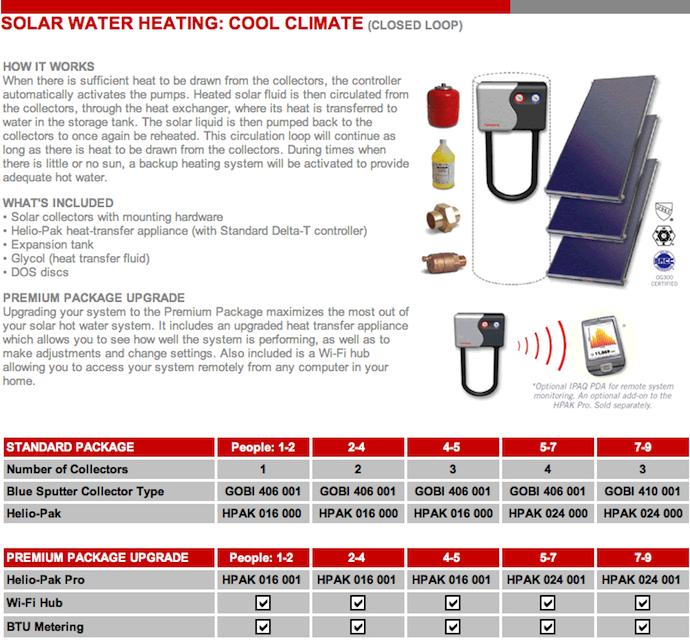 Heliodyne Cool Climate Package Solar System
A solar hot water pioneer since 1976, Heliodyne manufactures high quality, innovative solar hot water systems designed to maximize efficiency in a residential setting.
To reduce costs and simplify installation, Heliodyne has engineered complete prepackaged solar hot water systems that include everything necessary to start making hot water with the heat of the sun.
For those in cooler climates where temperatures frequently get below freezing, the Heliodyne Cool Climate Solar Hot Water Heating System will get the job done without any worry of component damage from freezing.

The Heliodyne cool climate solar water system is a closed-loop system which can be used in all areas, especially in areas with hard water or freezing temperatures. A special antifreeze fluid is circulated through the solar collectors instead of water, which means more durability and maintenance-free operation. The heated fluid then passes through a heat exchanger which in turn heats the home's water.
The Heliodyne cool climate solar hot water system can be mounted to your home's existing hot water tank, which will also heat your water in times when there is little or no sunshine. You'll never be without ample hot water.
Purchase and installation costs can vary widely based on your home's location and how much water you need. The Heliodyne cool climate system kit will range in price from $2800 for a 2 person system to $6100 for a system that can provide water for up to 9 people.
The Heliodyne cool climate solar hot water system is available and installed through contractors around the country. In Michigan, it is available from Event Horizon Solar & Wind.
If you'd like more information on the Heliodyne Cool Climate Solar Water Heating System, you can go to the Heliodyne website here.
Want to learn more about these systems? Here is some general information on Solar Hot Water Systems to check out.
comments powered by

Disqus