Fujitsu Halcyon Mini-Split Heating and Cooling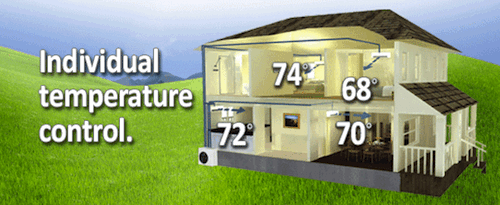 The Fujitsu Halcyon mini-split HVAC system is perfect for homes that have rooms or areas that need to be heated or cooled, but don't have the option of installing ductwork or interior evaporator units. By using thin copper tubing to pump refrigerant from compressors and condensors located outside to small blower units inside , the Halcyon system is capable of providing comfortable, efficient heating and cooling for the entire house.
How the Halcyon Mini-Split System Works
As mentioned above, the Halcyon system eliminates ductwork and indoor evaporator units. This allows the small interior blower units to be installed just about anywhere they are needed: units are available in various sizes and installation options.
Since the copper tubing requires only a small 3 or 4 inch opening, installation is simple. Once installed, the system can cool the room or home as described above; in winter, the process reverses and the system heats the indoor space by absorbing outdoor air, compressing it and using it to heat the home.
Benefits of The Fujitsu Halcyon Mini-Split System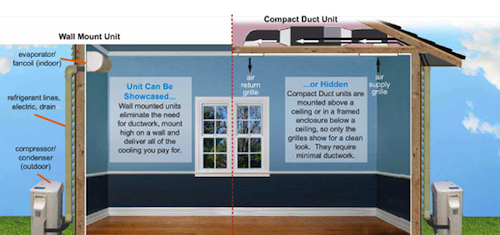 There are several advantages to using a Halcyon mini-split system to heat or cool all or part of a home.
Energy-Efficiency: As air moves through traditional ductwork, much of its heat (or chill) is dissipated, especially over long distances. Because mini-split units use no ductwork, almost all of the treated air gets to where it's supposed to go (5% cooling loss with Halcyon vs. 40% or more with traditional HVAC). With efficiencies of up to 27.7 SEER, using Halcyon means lower energy bills. Many units are Energy Star rated for the high energy-efficiency.
Individual Zones: Halcyon allows individual rooms to be heated or cooled. Doing so reduces or eliminates the need to condition air in portions of the house that aren't being used. Again, this translates to energy savings.
Quiet Operation: halcyon units are extremely quiet. All of the components that make noise are installed outside the home, keeping the indoors nice and quiet.
Ductless Installation: As mentioned, Halcyon is completely duct-free to increase efficiency and allow for a wide variety of installation options.
Exactly the Right Amount of Heating and Cooling:Many homes have HVAC systems that are either overpowered or underpowered. This results in increased energy usage and uneven, uncomfortable heating and cooling. With the Halcyon system, owners can install exactly what is needed: no more, no less. Up to 8 indoor units can be connected to one outdoor units for easy installation. Each individual indoor unit allows for completely independent, customizable comfort throughout the home.
Halcyon by Fujitsu and Your Green Home
Whether you're building a brand-new home or simply replacing an aging HVAC system, a mini-split system such as the Halcyon from Fujitsu may be worth investigating. Mini-split systems are also ideal for home additions: cheaper and much easier than extending the home's ductwork into new areas, the Halcyon can efficiently heat and cool new areas with easy installation.
Why heat or cool rooms when they're not being used? A traditional HVAC system treats the entire home, even if you're using one room or one floor. A traditional central air-conditioning unit uses 18,000 BTUs on average. A ductless mini-split Halcyon system does the same work using only 9,000 to 12,000 BTUs.
Heating and cooling accounts for a large percentage of any home's overall energy usage. By eliminating ducts and treating air only where it's needed, the Halcyon by Fujitsu can cut those energy costs considerably.
For more information, including the various Halcyon models available, an energy efficiency calculator, and energy tax credit opportunities, visit the official Fujitsu Halcyon website by clicking HERE.
comments powered by

Disqus