Eco-Friendly Countertop Materials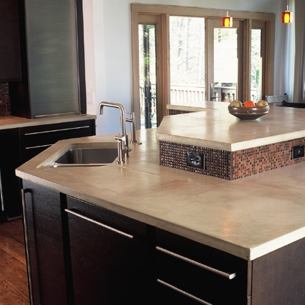 Concrete Countertops
Countertops, whether in the kitchen or the bath, have more specific demands than many other home materials. Because of their high usage and exposure to things like water and sharp objects, counters need to be extremely durable.
Counters made of inexpensive, lightweight materials will scratch, crack, and break easily, and require replacement much sooner than you'd probably like. From a green standpoint, this means generating waste from old counter materials that will most likely end up in a landfill. Choosing a highly-durable counter material will not only last much longer and keep its' 'like-new' appearance, its longer life will mean much less waste.
Countertop materials will also need to be resistant to an almost endless number of everyday items. Ketchup, coffee, wine, oil, and household chemicals, among many others, can stain countertop materials if they're not of a high-quality. Again, a countertop that's covered with stains is probably going to be replaced more often than one that is impervious to such things.
Green Countertop Choices
There are a number of excellent counter materials available today that are very environmentally-friendly. What's more, many of these 'green' counter choices are very durable, making them an outstanding choice for any home's countertops.
Some of the better green counter materials are:
Recycled Paper: Countertops are made from 100% sustainable and recycled paper. One wouldn't think that a material made completely from pre- and post-consumer recycled paper would be tough enough to last as a countertop, but these counters, such as those from Shetkastone, is tough stuff. It uses no toxic binders or adhesives; just recycled paper, including wax paper and old phonebooks. It's fireproof without the use of chemicals, and has a 400-pound screw test rating.
Recycled Aluminum: Aluminum is an extremely durable material for counters, and the use of recycled product keeps old cans and other aluminum products out of landfills and greatly reduces the amount of energy used to produce a finished product. Recycled aluminum counters offer a sleek, modern appearance, and is a great choice for kitchen counters.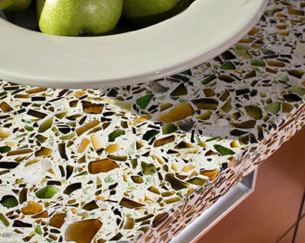 Recycled Glass Countertops
Recycled Glass Countertops: There are a number of companies producing beautiful, extremely durable counters made from recycled glass. Using material from old bottles allows for an almost unlimited variety of counter designs and colors.
Concrete Countertops: More and more counters are being made with lightweight cement-based materials, oftentimes containing recycled waste product. Other counters are made using combinations of recycled paper product, cement, glass, and other recycled materials.
Bamboo Countertops: Bamboo is another newer material being used in counters. Bamboo grows extremely fast, without agricultural inputs like pesticides and fertilizers, making it a very sustainable product. Add to this the fact that bamboo is an extremely tough, durable material, and you've got an interesting alternative to traditional countertops.
Other green counter options include natural linoleum and natural ceramic tile.
If you're building a new green home or sprucing up an older kitchen or bath, there are lots of exciting design opportunities available using green materials. A green countertop will be a beautiful addition to your home, and will provide a long-lasting, hard-working counter for years.
comments powered by

Disqus