Energy Star Appliances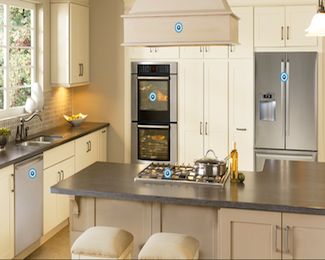 Energy Star Appliances
The major appliances that we all use to make our modern lives easier (at least that's how they're marketed to us) are among the biggest users of energy in our homes.
If you are designing and building a brand new green home with all-new appliances, now is the time to do some research and choose the most energy-efficient appliances. Doing so will go a long way towards keeping your homes' energy usage as low as possible, saving you more money in the long run.
Appliances Can Be Huge Energy Hogs
In a typical home, major appliances (refrigerators, dishwashers, washers, etc.) can account for 40 percent of all energy usage. When buying new appliances, it's a no-brainer (in our opinion) to seek out high-quality, super-efficient models.
Tools for Measuring Energy Efficiency
Picking an efficient appliance unfortunately isn't easy without a little homework. An efficient refrigerator looks just like a similar model which is an energy hog.
There are tools available to give you a good idea of how much energy a particular appliance is going to use, and how much it will cost you, in energy, to run per year.
Energy Star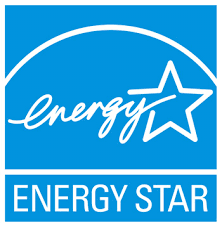 Being as we're all about being green and efficient, the Energy Star label is a good starting point for choosing appliances. Energy Star labels denote compliance with guidelines set by the EPA for energy efficiency. An appliance that doesn't qualify for the minimum standards for Energy Star should not be considered for an energy-efficient home.
It's important to remember that while Energy Star denotes an efficient appliance, many models are available that exceed the standards more than others (sometimes MUCH more). Use Energy Star as a starting point to indicate a group of efficient models, then investigate them individually to determine which models are exceeding the Energy Star standards for increased energy savings.
Another important indicator of appliance energy usage is the EnergyGuide label. Required on all appliances by the Federal Trade Commission on most appliances (including fridges, freezers, and dishwashers). The EnergyGuide label is the familiar bright yellow label posted on all new models. The label shows the model's capacity, its estimated annual energy consumption and operating costs, as well as a scale that compares its efficiency to that of similar models.
The EnergyGuide label is a wonderful way to do comparison shopping when determining energy usage; it does not, however, indicate Energy Star compliance unless indicated. Most Energy Star models will have the Energy Star logo on the EnergyGuide label, as well as a blue Energy Star sticker on the appliance itself.
Look for appliances with the lowest estimated operating cost; on the EnergyGuide label will have an arrow as close to the left side of the operating cost scale as possible. Super-efficient models may have arrows that are actually off the scale.
Should We Replace Existing Appliances?
If you're not outfitting a new house, you may be wondering if you should replace older appliances with newer efficient models. If you have old units, replacing them will obviously save you energy and money. However, in most cases replacing a working older appliance with a new one won't save enough money to cover the cost of the new appliance. At least not in a reasonable amount of time.
If you are dealing with an appliance that has fought the good fight and lived a long life but just won't work anymore, it's going to need to be replaced.
The time to do your homework and research new appliances to find the right energy-efficient model for your taste and budget is BEFORE the old appliance dies. If you wait until the old unit breaks down, the urgent nature of replacing it will make it hard to patiently shop around for efficiency.
We will delve further into energy-efficient appliance categories (refrigerators, dishwashers, etc.) in separate articles.

Energy Star Clothes Dryers: Energy Star has announced that it will certify energy-efficient clothes dryers starting with 2015 models.
New Energy Star Clothes Dryers will be designed to be 20% more energy-efficient than a new minimum standard. The rating will apply to gas, electric, and compact dryer models.
Since dryers use 6% of all U.S. electricity, this new rating is an important step.
LG has introduced a new Eco-Hybrid clothes dryer, which incorporates heat pump technology to further reduce energy use by recirculating some of the dryer's hot air, rather than simply venting it outside.

Energy Star Refrigerators: Today's refrigerators are very efficient compared to older models.
Choosing an efficient, Energy Star certified refrigerator will save energy and money.
Check our reviews of the latest Energy Star Refrigerators today and find out it if you should replace your current one, or include one of these great Energy Star models into you new green home and start saving lots of energy.

Energy Star Dishwashers: Dishwashers are a large source of water and energy usage in the home. It's important when choosing a new dishwasher to look for the most efficient model that fits your budget.
For information on some highly-efficient dishwasher models, consult our Energy Star Dishwashers page.
comments powered by

Disqus