Dirtball Clothing: 100% Recycled AND U.S. Made!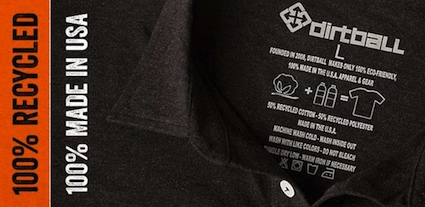 For those of us interested in living a 'greener' lifestyle, one area of our lives that often gets overlooked is the clothing on our backs. That's too bad, because the modern clothing industry takes an enormous toll on the environment. There are small fashion companies starting to fight back for a more environmentally-friendly, sustainable way of creating fashionable clothes…Companies like Dirtball, a company that uses eco-friendly, recycled materials in every item they make…..and they are doing so by bringing good jobs back to the U.S. by using all-American materials and making everything they sell right here in the U.S.A.
Dirtball: Sustainable and Fashionable Clothes
Conventional clothes are usually made from natural materials such as cotton, or synthetic materials like spandex and polyester. Traditionally-grown cotton is an environmental nightmare: it requires tons of water to grow, and even more toxic fertilizers and pesticides to grow. And synthetic fabrics? Well, they're usually made from virgin plastic, which means they're basically made from petroleum. Yuck, right?
Dirtball, a small U.S.-based company, has created a line of great looking clothes that seeks to make fashion much more eco-friendly. They do this by making everything with recycled materials.
By sourcing all of their materials from recycled products, Dirtball greatly reduces the amount of water and energy that goes into making new clothing. Their products, from hats to t-shirts to jeans, are made entirely from either recycled cotton or recycled plastic water bottles, or some combination of the two. Using recycled materials has the added benefit of keeping lots of trash out of the waste stream.
Clothing from Recycled Plastic Bottles?
In a perfect world, we would all stop using plastic water bottles and turn to more sustainable, reusable packaging for everything. But the world isn't perfect, and billions of plastic bottles are thrown away each year. The non-renewable petroleum that plastic bottles are made from constitute a perfectly reusable material that can be reused and reformulated into new products. Products like fabric for clothes. And Dirtball is using lots of plastic bottles in their clothes. How much? A Dirtball t-shirt contains the plastic of 6.5 water bottles. 5 bottles go into their hats. Their 'Green Jeans' contain up to 10 bottles. Their latest item, 'The 50', is a winter coat currently being funded on Kickstarter, that is made from 50 recycled plastic water bottles! You can support this super warm, super sustainable jacket by joining their Kickstarter campaign HERE.
Dirtball: Eco-Friendly and Made in America!
A company that makes such attractive clothing entirely from recycled water bottles and cotton is one to be admired, but Dirtball is taking things a step further by sourcing all of their materials in the U.S., and every single item they make is assembled in the U.S.A. as well. They're as committed to creating jobs here in the U.S. as they are to creating 100% recycled, eco-friendly clothing.
To browse Dirtball's full line of 100% recycled, 100% made in the USA clothes, visit their website HERE. (free shipping on orders over $75!)
comments powered by

Disqus