Cree LED Light Bulbs: The Next Generation
Cree continues their rapid evolution of energy-efficient LED light bulb technology with their latest line of affordable LED bulbs utilizing their new 4Flow filament design.
Cree LED: Changing the State of the Art
LED light bulbs are rapidly overtaking compact fluorescent bulbs (CFLs) as the go-to light bulb for those interested in energy-efficiency. Though they've been on the market for only a couple years, their design, as well as their affordability, are evolving very rapidly.
Early LED bulbs were expensive ($25 and up) and had a shape and design that were, to be kind, unusual to those familiar with the traditional light bulb shape. Cree, perhaps more than any other light bulb company, has quickly brought LED light technology to the masses. Their original light bulb design looked more like a 'regular' incandescent light bulb than others, and their much lower price points made them an attractive option for consumers. Now, Cree is doing it again with their next generation of energy-efficient LED bulbs .
Cree LED: Saving Money, Saving Energy
The price of the Cree LED bulbs has always been a main selling point, especially once you realize how much money they will save over their lifetime. The bulbs save energy; saving energy saves money. The Cree LED bulbs are 85% more efficient than a similar-brightness incandescent bulb.
Although they're 85% more efficient than incandescents, the new Cree LED bulbs look very similar in shape and size, thanks to their new 4Flow filament design, something that many consumers have stated as a reason for not converting over to LED; people love the familiarity of that traditional light bulb shape, and the size makes the Cree bulbs more likely to fit existing lamps and other light fixtures.
These new Cree LED light bulbs are more affordable than ever. At less than $10, the new line of bulbs is about 20% cheaper than the previous generation, which means you'll be saving more money faster with these new bulbs.
Attributes of Cree LED Lights
Cree's LED bulbs, like most other LED bulbs, last a very long time; they're rated for 25,000 hours. If you left a Cree LED bulb on all the time, 24/7, it would last three years. That's a long time. Incandescents, even CFLs, can't come anywhere close to that.
What about the light quality itself? A sticking point with older CFLs was that the light didn't look "right" to people accustomed to generations of warm incandescent light. These new Cree LED bulbs emit a light that's very close to that familiar incandescent glow; so close, in fact, that you'd be hard-pressed to tell the difference. It's that good. Cree LED bulbs are also available in a 'daylight' version, perfect for work areas.
Cree LED bulbs are instant-on, and flicker-free, and provide omni-directional light. They are fully dimmable, UL-rated for damp locations, and mercury free. All bulbs are made with safety-coated glass.
These new bulbs feature Cree's 4Flow Filament Design using cross-flow ventilation to cool the LEDs, resulting in a bulb that closely matches the traditional bulb shape; it's lightweight, compact, and very durable. Other LED bulbs require larger metal or plastic heat sinks to vent heat away from the bulb, which results in their unfamiliar shapes and sizes.
Another big plus? Cree LED bulbs are assembled in the USA. As far as we can tell, they're the only company selling LED light bulbs that aren't made in China. Another win for Cree!
For those looking for "lightbulb shaped" light bulbs, the high-quality Cree LED bulbs are affordable enough to begin replacing older bulbs around the house today; the planet, and your pocketbook, will thank you.
The new Cree LEDs are available online right now at Home Depot, and will be available in Home Depot stores in November 2014. (The one drawback to Cree LED bulbs is that they seem to be exclusive to Home Depot.)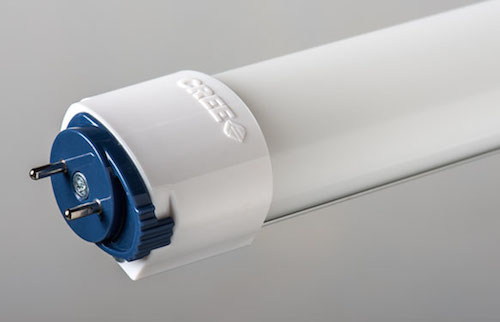 For commercial applications, or residential applications that use 4-foot linear tube lamps, Cree now offers the
T8 linear lamp
. These lamps are compatible with almost all existing ballasts, and use 30% less energy than fluorescents. Learn more about the
Cree T8 HERE
.
For more information, visit the official Cree website.
comments powered by

Disqus