Andersen Windows - The 400 Series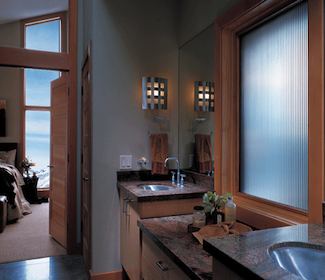 Andersen Windows - The 400 Series
If you're designing a new home, the choice of windows is one of the most important. Literally your window to the outside world, a home's windows bridge the gap between interior and exterior. Windows allow natural light into the home, and provide fresh air and ventilation during warmer weather.
From a green, ecological perspective, however, windows have historically been a weak point in a home's overall energy efficiency. Older windows of just a decade or two ago were notorious for their ability to allow heat into (and out of) a building. These inefficient, single pane windows were barely better than an open hole in the side of a building.
Amazing technological advances in window design and technology have taken place, and today's windows are much better at energy efficiency. Since the early 1980s, the energy performance of the average home window has increased over 50%. Better frame construction, multiple panes, and especially the introduction of window glazing have allowed energy-efficient windows to become a key part in the overall design of a green home. One of the biggest, most-trusted names in windows, Andersen, is leading the way.
Andersen Windows - The 400 Series
Andersen Windows - The 400 Series
At Green Home Source, we use Andersen 400 Series windows almost exclusively in the design of our green homes, for good reason. The Andersen 400 Series is one of the highest-quality, energy efficient and beautiful windows on the market today. Let's take a look at some of the reasons the Andersen 400 Series is at the top of our list.
Solid Wood Construction
Wood windows are still the best choice for maximum energy efficiency. The Andersen 400 windows are made of FSC-certified sustainable solid wood for a warmth and beauty that only real wood can provide. Wood also allows for windows in separate rooms to be painted or stained to match the room's decor.
Low Maintenance Exteriors
While wood is a superior window material, its use on exteriors can add to maintenance and frequent painting. Andersen solves this with the 400 Series with the Perma-Shield system. The natural wood is clad in vinyl to protect the window for decades and eliminating the need to paint or repaint - ever.
Andersen High Performance Low-E Glass
It's when you start to look at the energy saving potential that the Andersen 400 Series windows really start to shine. Andersen has created the High Performance Low-E glass, which works in several ways to lower your home's energy usage.
Andersen Low-E glass allows only 17% of the sun's UV rays through, compared to about 62% for a traditional dual-pane window, greatly reducing heating and cooling costs. For example, Andersen 400 Series windows in a home heated to 70 degrees in the winter will not drop below 57 degrees if the outside temperature is zero. For hot conditions, the opposite is true, the windows work harder to keep the heat out and the cool in. Andersen 400 Series windows insulate a room just as well, or better, than the walls themselves.
The new Andersen Low-E windows also reduce maintenance. The Low-E glass reduces visible water spots by up to 99 % and minimizes dirt build-up on the window.
Andersen Low-E glass reduces UV damage to furniture and carpet in the home by blocking 84% of the sun's damaging UV rays.
For homes in areas with high temperatures and lots of direct sunlight, Andersen offers the Low-E4 Sun and SmartSun options. The Low-E4 Sun glass has a tint which reduces visible light by 32%, and allows half as much heat through the glass as the regular High Performance Low-E4 glass. The SmartSun Low-E4 glass goes even further; by blocking 95% of UV rays, fading and solar heat gain (heat allowed through the glass) are greatly reduced.
Andersen Windows - 400 Series Stormwatch Protection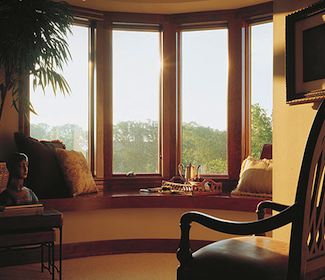 James Hardie Siding
In addition to the SmartSun options for homes in sunny, hot climates, Andersen also offers options for homes in storm-prone areas. The StormWatch Protection Low-E4 glass provides the same outstanding energy efficiency as the regular Low-E4 glass, but is tempered to provide impact-resistance to combat high wind and damage from windborn debris. Hardware is anchored with extra fasteners, and frame reinforcements add strength and stability during high wind pressure.
Andersen Windows: An Energy Star Partner
Andersen 400 Series windows are Energy Star qualified for their ability to reduce heating and cooling costs. Andersen is also certified by several other organizations for their efforts to create environmentally sustainable and energy efficient products. Some of these include:
Alliance to Save Energy
Forest Stewardship Council
Green Seal
Metafore (Certified Forest Products Council)
National Green Building Standard ICC 700-2008
National Fenestration Rating Council
U.S. Green Building Council (Andersen windows assist homes to achieve LEED certification)
An Andersen Window For Every Room
The Andersen 400 Series windows are available in every imaginable window style: casement, awning, double-hung, gliding, picture & transom, and bay windows are all options for the green home designer. Andersen 400 Series windows are also available as replacement windows for those looking to do a green remodel of an existing home.
With the beauty of natural wood, the exceptional energy efficiency, and the quality that Andersen puts into every window it makes, the 400 Series is the choice for any green home. Visit the Andersen Windows website.
comments powered by

Disqus