The Luci Solar Lantern by MPOWERD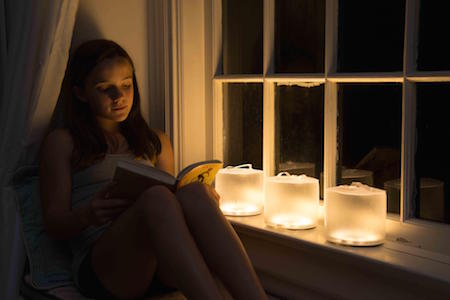 MPOWERD, a new company dedicated to giving people anywhere on the planet the chance to have renewable, affordable lighting has introduced the Luci, an innovative inflatable solar lantern.
MPOWERD was started after the devastating earthquakes in Haiti in 2010 by a small group of people looking to "do good by doing well." With millions of Haitians left without electricity, they decided to develop products that would easily allow people without access to the electrical grid, whether due to disaster or remoteness, to easily and cleanly light their nights.
Meet the Luci Solar Lantern
The Luci solar lantern's slogan is: "Anytime. Anywhere. Any Weather." And Luci means it. Luci is a compact, flat disc that when inflated acts as a lamp capable of lighting an entire room. The Luci inflatable solar lantern lives up to its slogan. It's incredibly light, it's waterproof, and it is shatterproof. While Luci was designed to bring clean light to those in desperate need of it around the world, it can also provide 100% clean, portable light right here in the U.S. The Luci line of solar lanterns are perfect for power outages, camping, traveling, hiking, or simply for providing sun-powered light at home.
How the Luci Lantern Works
All Luci lights feature the same innovative technology. They feature a small solar panel that captures energy from the sun (or even incandescent light!) and stores it in a rechargeable battery. The energy is then used to light 10 super-efficient LED bulbs. Nothing else is needed; everything is included with each Luci lantern.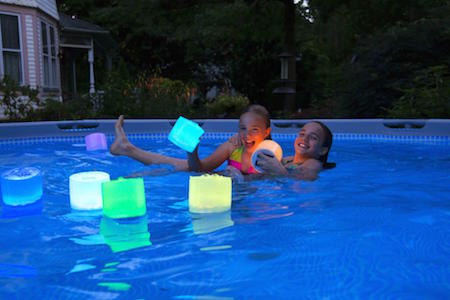 Lucie charges in about 8 hours of exposure to sunlight or incandescent light. In cloudy conditions charging will obviously take longer. And once it's charged, Luci will provide light for up to 12 hours at its lowest setting!
MPOWERED claims that the Luci's components will last for 300 to 500 full charge cycles. If used fully charged and fully discharged every day, that's about 2 years of use. A long time, in other words. The LED bulbs are rated for about 25,000 hours of use, meaning they will never burn out. Ever.
Luci solar lanterns will keep a full charge for 3 months, making it perfect for emergency kits. After those 3 months, Luci will keep a 50% charge for two years without any further solar charging.
Luci lanterns are designed for abuse. Luci solar lanterns are waterproof and shatterproof. They can be used pretty much anywhere. They are impervious to salt water, chlorinated pool water, even things as nasty as turpentine and motor oil! Luci lanterns are inflatable, making them perfect for use on boats or anywhere else near water. (They are made of PVC, a very durable and commonly-used plastic.)
But what about the light? A Luci lantern will shed light on about 10 square feet, or 1 sq. meter.
The Luci Line of Inflatable Solar Lanterns
MPOWERD has a full line of Luci products designed for different needs.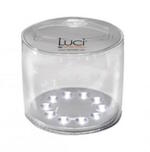 It all started with the Luci Original Portable Solar Lantern. Weighing in at a super-light 4 ounces, and collapsible to only one inch thin, the Luci Original inflates to shine light wherever you need it. The Original is light, waterproof, and shatterproof. It's perfect for reading, studying, camping, ambiance, entertaining, or any other activity where you need light.
The Luci lanterns are so useful, so practical, and so affordable, it's a wonder nobody thought of it before. A small, solar charging light that can be collapsed and taken literally anywhere.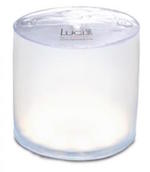 The Luci EMRG is the Original's handy little sibling. EMRG is designed for emergency use, providing solar lighting reliably in times of blackouts or other extreme conditions, inside or out. It weighs only 2.5 ounces, and is small enough to carry anywhere. It also features a red S.O.S. flasher for emergency situations when you may need to get somebody's attention.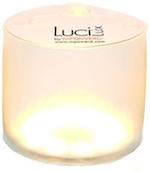 Lucie Lux is designed for more decorative purposes. With a frosted design and a warmer glow than the original Luci, Lux is ideal for parties (indoor or out), home decor, or anywhere else you need a touch of luxurious light. A perfect alternative to smoky candles.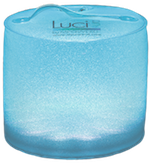 MPOWERD's newest Luci light is the Aura. Luci Aura has 7 different color settings, including a bright white light for utility use or reading. It can be set to cycle through different colors or to remain on any of the individual colors. Aura has a frosted body like the Lux, again making it a nice alternative to candles or party lights that need to be plugged in or have their expensive batteries changed out.
MPOWERD Social Justice
MPOWERD was created not just to sell products, but also to help those in need. MPOWERD created Luci to have a positive impact on lives worldwide. They believe that doing good is just as important as earning profits.
There are almost 3 billion people in the world TODAY that don't have access to electricity. In these areas, people rely on expensive fuels in dirty kerosene lamps that are also dangerous and incredibly polluting for their light. Luci is an affordable, fuel-free alternative, providing reliable light. By following the UN's Millennium Development Goals, Luci solar lanterns allow people anywhere to save money, become better educated, and travel more safely after dark. No more kerosene, no more toxic smoke, no need for access to polluting coal-powered power plants. Just clean, renewable, long-lasting light from the sun. Luci is a beautiful, elegant lighting solution, whether you live in sub-saharan African or the U.S. suburbs.
MPOWERED is a Certified B Corporation, committed to environmental and social justice worldwide.
To purchase Luci Solar Lanterns online, click HERE.
You can also donate Luci lanterns to those in need around the world through MPOWERD's Solar Justice movement. The "Give Luci" program allows you to purchase a Luci lantern for $15. Each additional lantern is only $10, and all are given to those in need. Give Luci lights HERE.
comments powered by

Disqus