Cree T8 Four Foot Linear LED Lamp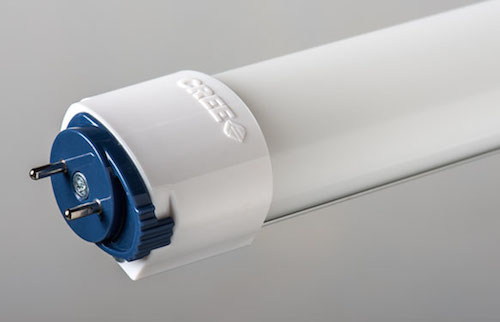 Cree T8 LED Lamp
Cree, a leading manufacturer of groundbreaking LED light bulbs for the consumer market, has just introduced a T8 replacement for four foot fluorescent linear lamps. These new T8 bulbs are 30% more energy-efficient than traditional fluorescent lamps, and can be used with no modifications to existing fluorescent ballasts.
Cree T8: A New Spin on a Classic Design
The 4-foot fluorescent tube is everywhere: Virtually every office building, school, and commercial structure in the country uses these fluorescent lights. Their bright light and efficiency have made them the standard bearers for commercial light applications for decades. But much like new LED bulbs are quickly replacing the compact fluorescent bulb (CFL) in residential applications, the new Cree T8 is poised to do the same for commercial lighting. The Cree T8 takes the familiar 4-foot tube design of the fluorescent, and combines it with state-of-the-art LED technology to create a more efficient, longer-lasting bulb that can easily replace fluorescent bulbs as they burn out.
Cree LED: The Linear Light of the Future...Now.
Replacing fluorescent lamps with new LED T8 lamps makes sense...AND cents. The Cree T8 LED linear lamps are 30% more energy-effiicient than a similar-brightness fluorescent. The T8 delivers 2100 lumens of light, approximately 100 lumens of light per watt. That means a Cree T8 , using only 21 watts, replaces a 32 watt fluorescent lamp with the exact same brightness of light. The 30% reduction in energy usage creates a payback period of less than 3 years. For businesses, that makes good financial sense. And it makes doing the right thing environmentally a no-brainer.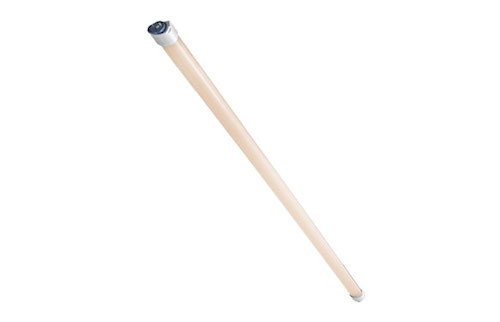 The Cree T8 LED Lamp
Cree T8: Near Total Compatibility
Replacing less efficient fluorescent bulbs with the Cree T8 couldn't be easier. They have been designed to be compatible with over 90% of existing electronic T8 ballasts. Compatible ballasts include instant start,programmed start,rapid start, and dimmable ballasts.
As fluorescent bulbs reach the end of the life span and burn out, they can simply be switched out with a new Cree LED lamp. And once it is, the energy savings start instantly.
The energy savings will last. With a life rated at over 50,000 hours, the Cree T8 linear lamp may never need to be replaced.
Attributes of Cree T8 Linear Lamps
The Cree T8 linear lamp saves energy and money. While that may be enough to convince many business owners to switch, the quality of the light may be the biggest factor for using them to replace fluorescent lamps.
The Cree T8 is available in 3500K and 4000K light styles, with a CRI (Color Rendering Index) of 91, utilizing Cree's TrueWhite technology.
Unlike many fluorescent lights, LEDs do not flicker. They do not emit hum or any other noise. And they are fully dimmable (when used with dimmable ballasts.)
The Cree T8 linear lamp features a unique oval design, which allows for more uplight than regular LED tubes.
The Cree lamps have a unique end cap that twists and locks to make installation simple.
Locations for Cree T8 Usage
Cree LED lamps can be used anywhere a conventional 4-foot fluorescent tube lamp is used today. These locations include: Retail stores, schools, hospitals, restaurants,warehouses, manufacturing facilities, commercial and municipal offices.... the list goes on.
Fluorescent linear tube lamps are also frequently used in residential settings, such as garages, workshops, and closets. These residential locations are also perfect for the Cree T8 lamp for higher-quality lighting, energy savings, and lamp longevity.
For more information, visit the official Cree T8 website.
comments powered by

Disqus