CertainTeed Asphalt Shingles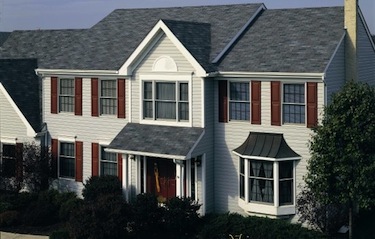 Asphalt shingles are the most popular form of residential roofing for a variety of reasons: ease of installation, relatively low cost, durability, and appearance. An asphalt roof requires very little (if any) maintenance and can be easily repaired if damaged. The wide variety of colors make asphalt shingles a stylish choice for any home style. For discerning homeowners and builders, CertainTeed is the shingle of choice.
CertainTeed Shingles: Beauty for Every Home
CertainTeed offers a wide variety of shingle styles and price points to fit any home and budget. From the 'traditional' shingle look to styles that have the appearance of wood shakes, CertainTeeds' product lines offer many options. Each shingle style is offered in a variety of rich colors to complement any homes' exterior.
The Durability of CertainTeed Asphalt Shingles
The main job of any roofing product is simple: protect the home for as long as possible, and that aid where CertainTeeds residential roofing shingles shine. Even their lowest-cost shingle product will offer decades of dependable protection from damage. CertainTeed backs up their products with the strongest warranty protection available anywhere. A CertainTeed roof will remain strong, safe, and beautiful for decades.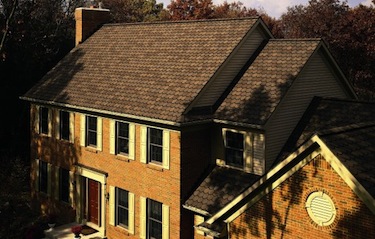 Going Green with CertainTeed
Choosing the right 'green' roofing product is not always easy, and asphalt shingles have a reputation for being not quite as green as other roofing materials such as metal or clay tile. CertainTeed is out to change asphalts' reputation with their strong commitment to sustainability, and make them a viable option for owners of green homes.
Some of the ways CertainTeed Roofing Products are a greener choice are:
- CertainTeed Shingles contain a significant amount of pre- and post-consumer recycled content (up to 80% in some products), which requires less energy to manufacture and preserves natural resources. Recycled content includes the slag, stone granules, paper, and other materials that go into manufacturing shingles. Landfill space is reduced, and greenhouse gases are reduced.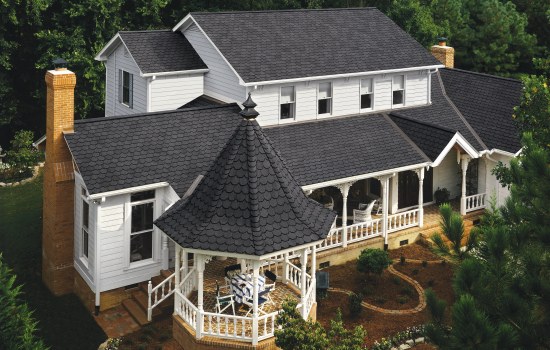 CertainTeed keeps more than a quarter million tons of materials out of landfills each year by incorporating recycled content into their shingle products.
- The CertainTeed shingle manufacturing facilities recycle almost 90% of their production waste; this waste is used for road construction, even new shingles. Their packaging materials also contain high levels of post-consumer recycled content.
- When CertainTeed shingles are replaced (which won't be for a long, long time) they can be recycled into new products such as road surfaces, furthering their sustainability.
- CertainTeed offers a selection of Energy Star-rated shingles designed to reduce a homes' air conditioning usage. These Energy Star shingles, like the CertainTeed Landmark Solaris line, are made with reflective colored granules that reflect the suns' heat away from the roof, reducing air conditioning costs by up to 20%.
The use of CertainTeed residential shingles can earn points for green home certification programs such as LEED for Homes and NAHB Green Building Standards.
Choosing CertainTeed shingles for your home is an investment in the future: the future of your homes' beautiful roof, its long-term protection, as well as a more sustainable future for the planet. Visit the official Certainteed website.

comments powered by

Disqus